In today's upcycling DIY post I'm going to show you how to make something new from something old – in less than thirty minutes. I'll explain how you can turn a dress into a super comfy skirt and even change it's look with the help of small details.
I am a sucker for fabric scraps – as you might know. I've got a whole bunch of them stored in a bag just waiting for their big moment. Every now and then I want to get rid of the bag and start a new sewing project – although this is mostly not making it so much more empty (obviously ;)).
Last summer I had the idea to make a skirt from a fabric tube I had from a dress (this one by People Tree). Back then, I didn't pay too much attention to good sewing so that the seams unraveled during the first time wearing. Three weeks ago I decided to give it another shot – and I liked the outcome so much that I did the same with another piece of fabric (from this dress).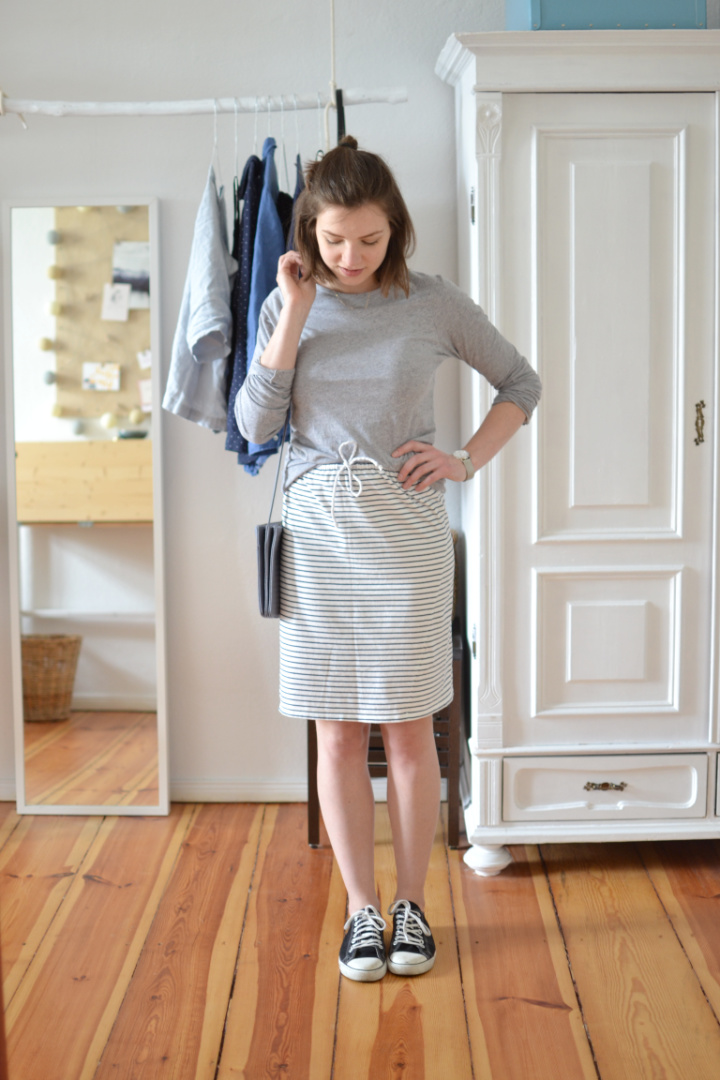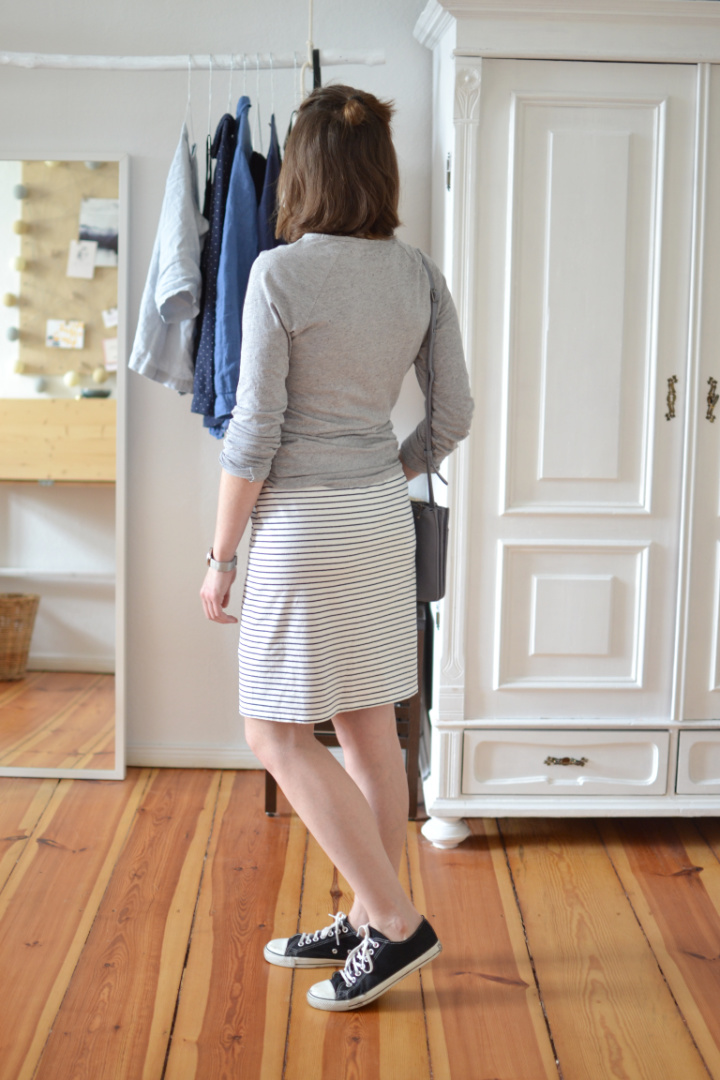 UPCYCLING DIY: FROM DRESS TO SKIRT
---
This DIY is so easy that you'll be done in less than thirty minutes – a real time saver I'd say and perfect for the upcoming warm days 😉 I've used two dresses from jersey fabric for my DIY's but it would also be possible to transform big t-shirts or men's shirts with this method.
I've got two new summer skirts for my warm weather wardrobe now that are so easy to combine and comfy – thanks to the elastic band. I've added a ribbon to the skirt with the white and blue stripes which makes it a little more sporty. I've left the skirt with the block stripes as it was so it can be worn with a belt. I'm explaining how you can make your own skirt below 🙂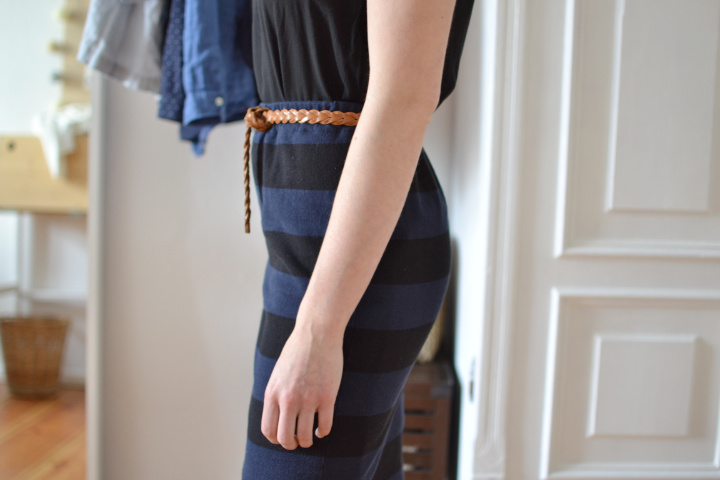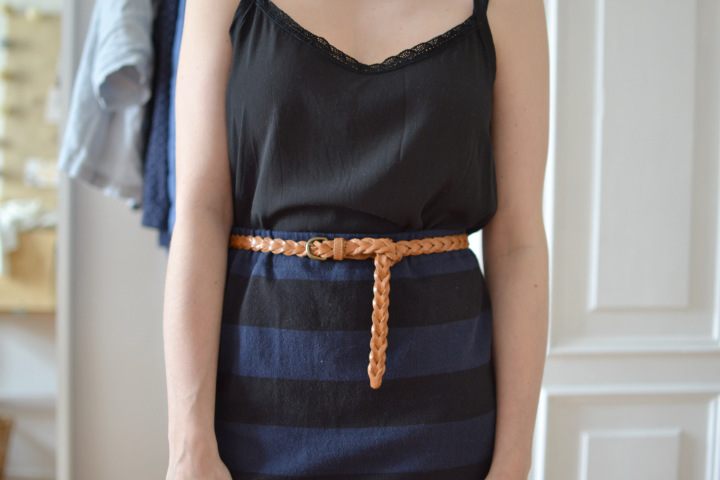 HOW TO SEW A SKIRT FROM A T-SHIRT OR DRESS
---
There's not many things you'll need for this DIY – you might even have everything at home if you're a frequent sewer. Next to an old dress, t-shirt or blouse you'll need elastic band, yarn and your sewing machine.
Cut off the upper part of your piece of clothing like you can see in the picture. Keep in mind that the skirt will be a couple of centimeters shorter as we'll insert an elastic waistband.
Turn the fabric inside out so that the "bad side" is looking towards you. Fold about one centimeter outwards; this part will be the seam allowance. Fold the fabric once more – the width of the resulting tunnel depends on the size of your elastic band (I've used 1,5 cm broad elastic band for the skirt with the white and blue stripes and 3 cm broad band for the other one). Add 0,5 cm to this measurement so that you can easily insert the elastic band later. Secure everything with pins.
Sew along the lower edge of the waistband. Use a zigzag stitch for jersey fabrics and a normal stitch for other fabrics. Leave a 3 to 4 cm big gap at the side seam.
Attach a big safety pin to one end of the elastic band and pull it through the tunnel. You can also try on the skirt once more to check the size. The elastic band should not be stretched when it is around your waist. Sew the ends of the elastic band together and close the gap in the side seam. Done!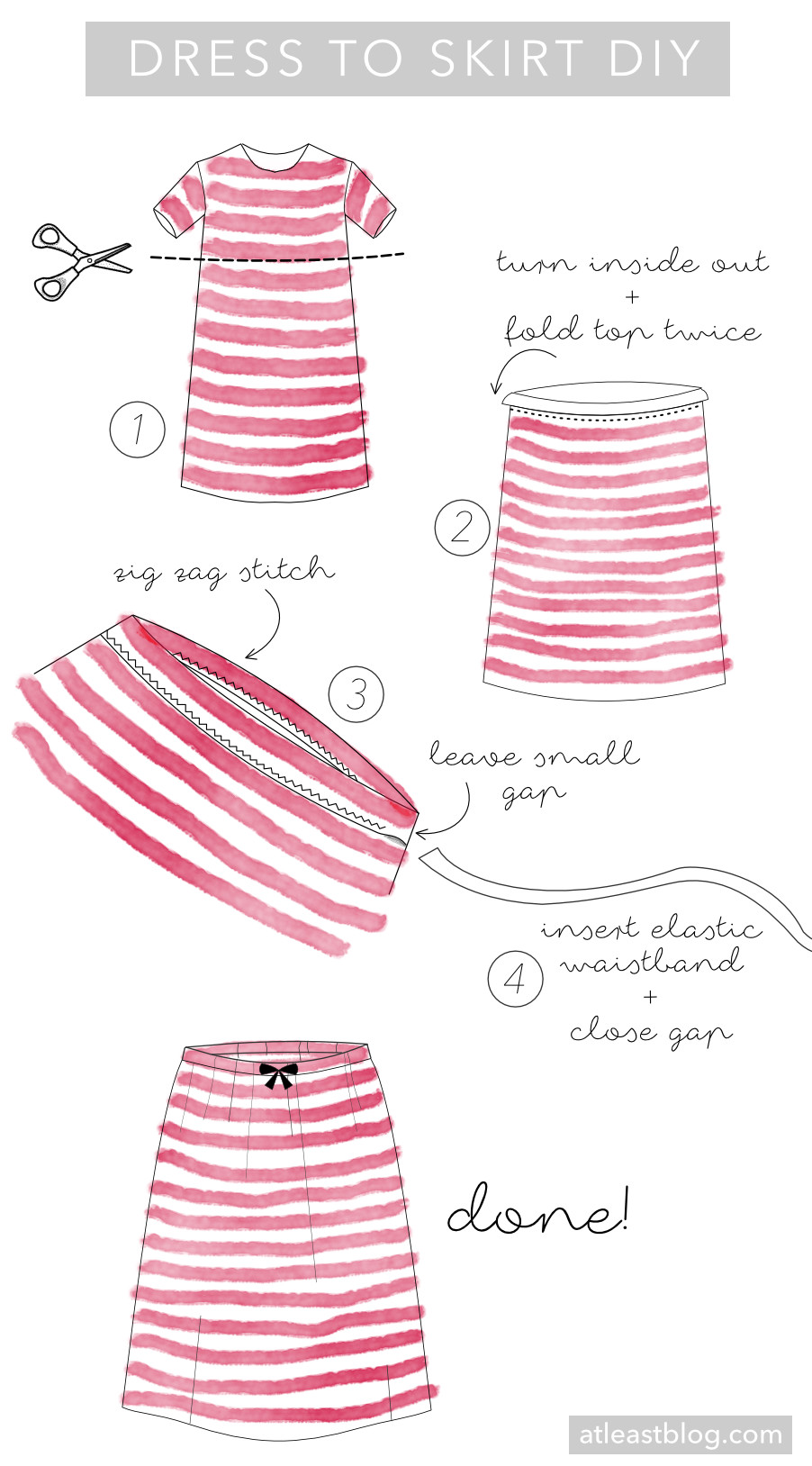 How about you: Do you have any leftover fabric waiting for a new life? What's your next sewing project? If you're looking for some inspo I recommend checking out my DIY category 🙂