I've been looking for a nice bralette for quite some time now but my buying attempts always failed because of a rather poor fit. As I wasn't keen to wait much longer, I decided to make my very own. A short look into my closet revealed an old pair of jogging pants and a top with adjustable straps that I found to be very helpful… 
I decided to use the fabric from the pants and the adjustable straps to make them into something new: a self-made bralette. But it wasn't only supposed to function but to look pretty as well so I got some lace at my local craft store. Despite some small obstacles during the sewing process I'm super happy with the outcome and already dream of adding another bralette to my collection.
You want to DIY your own bralette? Great – I'm sharing my knowledge with you below.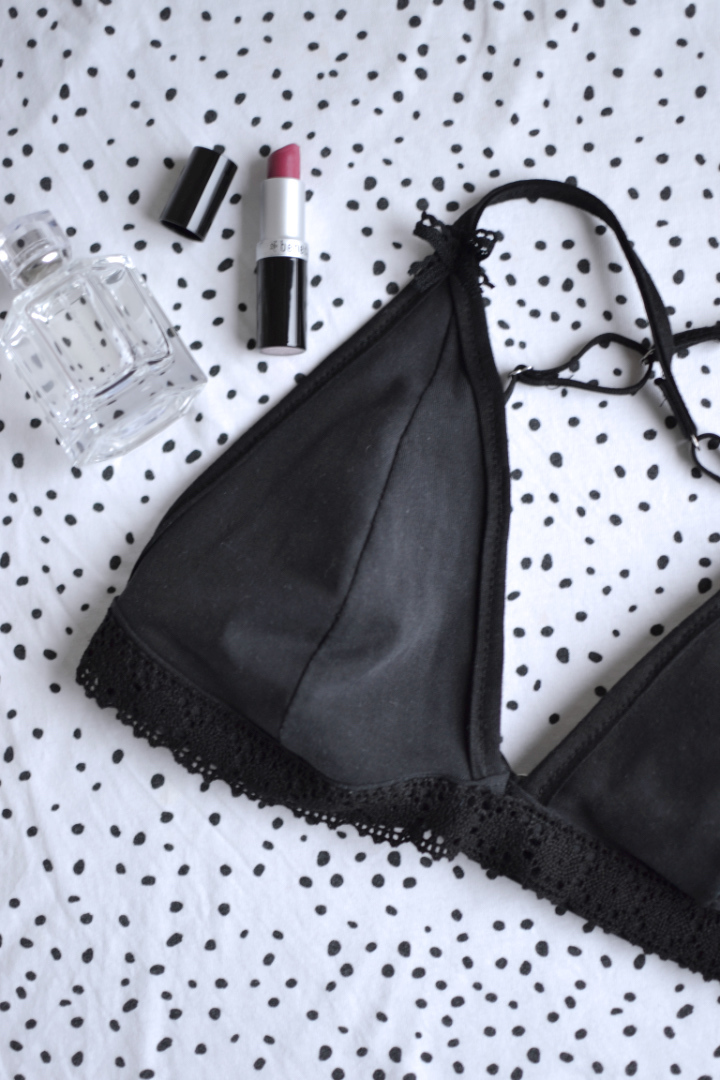 Bralette DIY: What you'll need
If you want to sew your own bralette you should have these things ready:
a 40×60 cm piece of cotton jersey for the cups. It should be a slightly elastic yet thick material.
a 10 cm thick elastic band (you can also take the material you'll make the cups from). The length depends on your underbust measurement. Just wrap the band around you to estimate the right length.
a bra or bikini clasp
ca. 120 cm of elastic bias tape
lace
adjustable bra straps
How to sew a bralette
The making of a bralette is actually pretty simple – if you have the right sewing pattern. I made one myself that you can download here and print on A4.* As we're working wth elastic fabric you should stitch all the seams with a small zigzag stitch.
Cut out the cups with the help of the sewing pattern. As the bralette will be lined you'll have to cut pattern piece A and B four times each.
Sew pattern piece A and B together on the round edge. You should come out with four cups.
Place the cups on top of each other with the bad sides facing. Secure the cups with some pins.
Stitch the bias tape onto side A, repeat this step on side B but sew further until you get a strap that is about 20 cm long.
Add the underbust band: Find the middle of your band and sew in the cups on the right and left side. Stitch the complete band. You can add your bra clasp on the ends.
Sew in the straps. My bralette has crossed straps in the back and can be adjusted – you can choose of course whether the straps are crossed or not 😉
(Optional) Add some lace to your bralette. If you decide to add some to the underbust band like I did you should only do so in the front if your lace isn't elastic.
*The sewing pattern is made for cup C and D. If you need a smaller size, you can cut off a little from the straight side line. Check the new pattern by placing it onto a bikini top.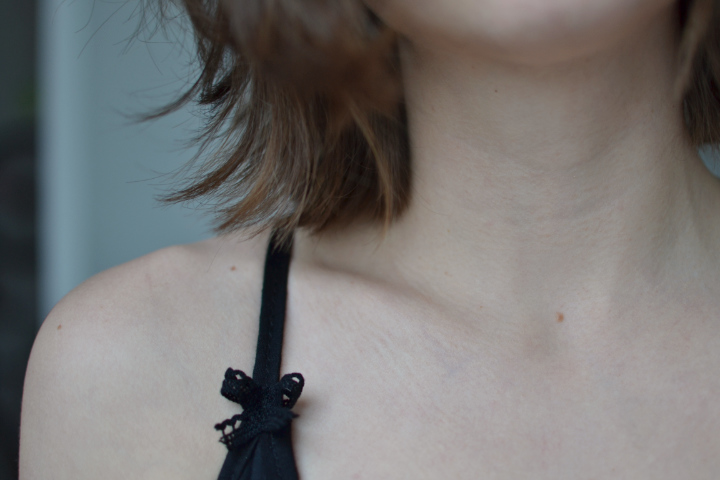 Have fun sewing your own bralette!