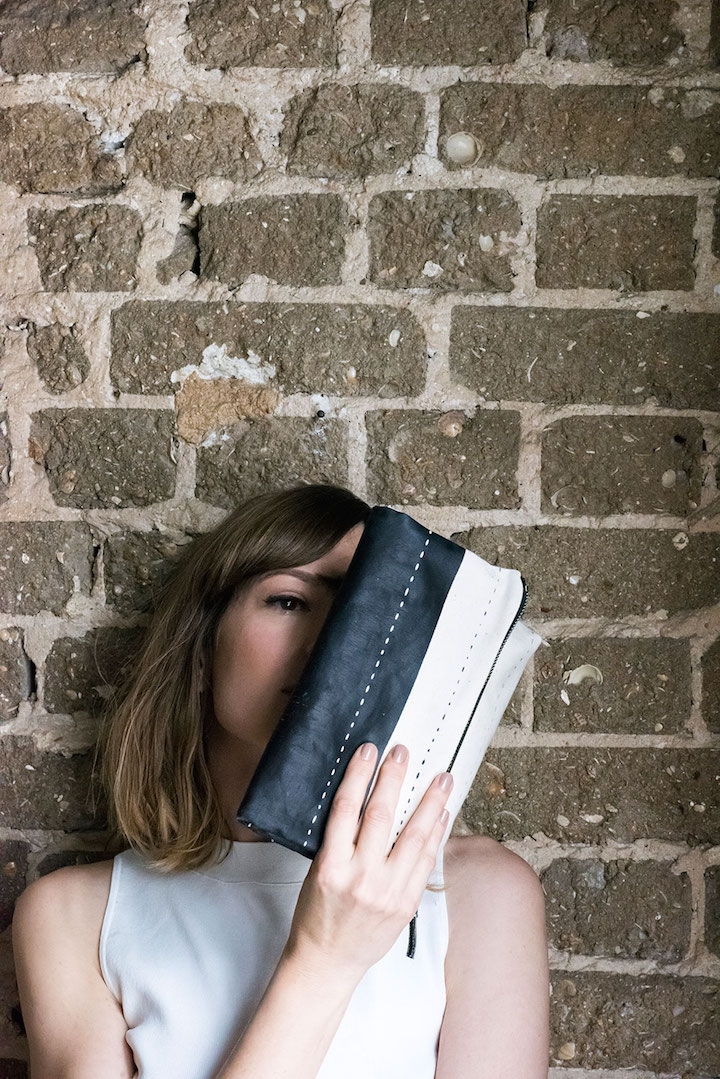 INTERVIEW. Die gaaaaanz treuen Leser werden sich vielleicht an meinen allerersten Fair-Fashion-Post erinnern. Schönes Beiwerk und Objekt der Begierde war damals eine Clutch von der israelischen Designerin Lee Coren. Man sieht sich ja immer zwei Mal im Leben – was ich in diesem Fall mehr als angenehm finde und so darf ich euch die junge Dame aus Tel Aviv heute mal etwas genauer vorstellen 🙂
Lee, obligatorische Frage zuerst: Wie bist du dazu gekommen, dein eigenes Label zu gründen?
Vor vier Jahren habe ich meinen Abschluss in Visueller Kommunikation am Shenkar College of Engineering gemacht und hatte danach richtig Lust auf Textildesign. Bis zu diesem Zeitpunkt hatte ich aber nur sehr wenige Erfahrungen in diesem Bereich, deshalb habe ich verschiedene Kurse belegt, um mein Wissen zu erweitern. So habe ich meine Liebe zu traditionellen und modernen Drucktechniken entdeckt – und für die Kombination aus beidem. Mir wurde klar, dass es genau das ist, was ich machen möchte. Heute sind meine Entwürfe das Resultat aus einem Grafikdesignprozess – hierfür sammle ich Visuals (meine Fotografien), nehme sie auseinander (ich konzentriere mich dabei auf die Elemente, die mich am meisten faszinieren) und setzte sie zu einem neuen Muster, einer veränderten Form zusammen.
Lee in ihrem Studio.
Du machst "Urban Textiles" – was heißt das genau?
Meine Entwürfe sind von zwei starken Elementen in meinem Leben inspiriert: meiner städtische Umgebung und dem Verlangen, auch mal zu entfliehen und frische Luft zu schnappen. Mir geht es immer um das, was mich umgibt. Diese Inspiration spiegelt sich in meinen Designs wider, die in der Stadt getragen werden – und so schließt sich der Kreis.
Was ist dir bei deinen Produkten besonders wichtig?
Ich möchte gern Dinge machen, die der Welt noch fehlen.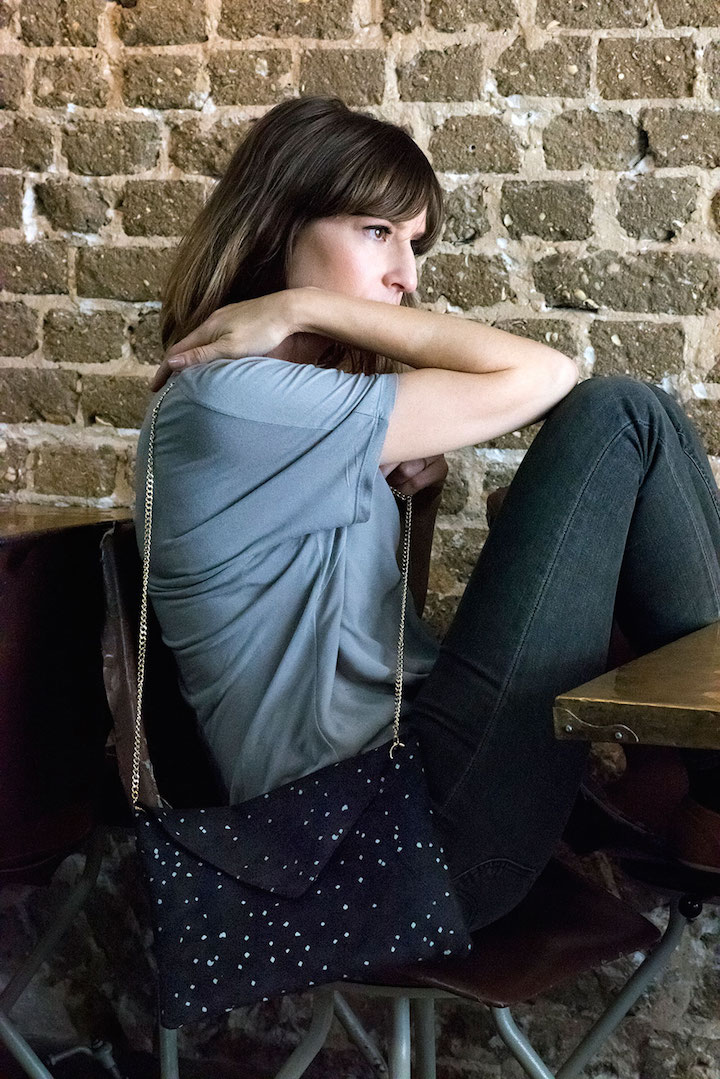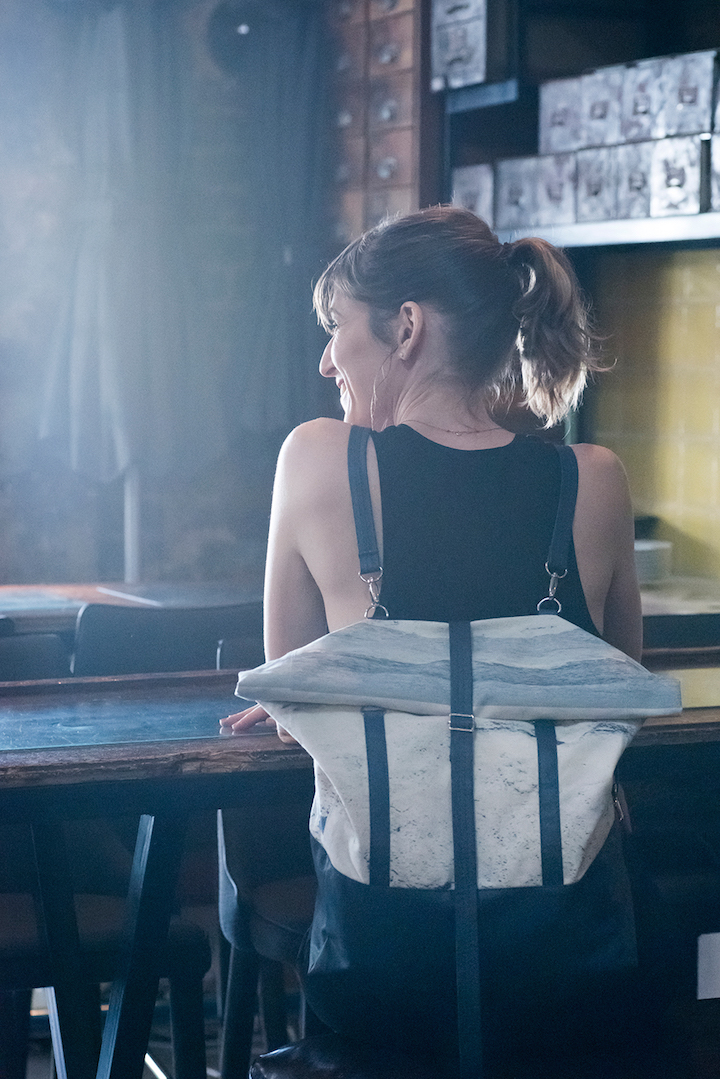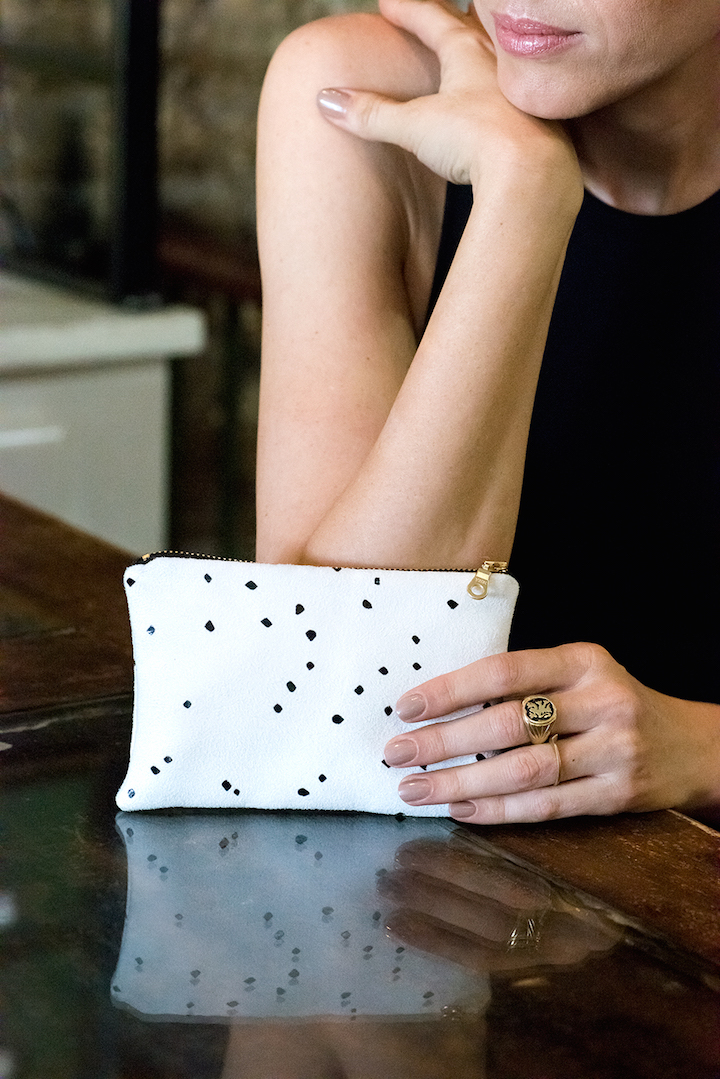 Eine deiner beliebtesten Serien besteht aus verschiedenen Landschaftsfotografien. Welche davon ist deine liebste und warum?
Ziemlich schwer eins auszusuchen, denn jedes der Motive steht stellvertretend für einen unvergesslichen Moment. Der "Dead Sea"-Print zum Beispiel entstand aus einem Foto, das am Ende eines langen Wanderausfluges mit Freunden und Familie gemacht wurde. Unser Hund Boni war dabei, deshalb mussten mein Mann, Boni und ich uns an einem Punkt des Pfades von den anderen trennen, denn es führte nur eine schmale Leiter an der Felswand hoch. Als wir aus dem Wadi kamen, sahen wir vor uns nur noch Wüste und konnten nicht mehr genau sagen, aus welcher Richtung wir gekommen waren. Wir liefen also einfach los, aber Boni kam uns nicht hinterher. Er blieb einfach stehen und rührte sich nicht mehr vom Fleck. Wir gingen zu ihm und er sprang in die entgegengesetzte Richtung. Ein belgischer Schäferhund, der in der Stadt aufgewachsen ist, zeigte uns mit seinen natürlichen Instinkten den Weg – wir waren ziemlich beeindruckt! Und erleichtert. Er hat uns den ganzen Weg geleitet und als wir endlich am Treffpunkt ankamen, warteten unsere Freunde schon. Wir schauten uns gemeinsam den Sonnenuntergang an und aßen eine Kleinigkeit. Da habe ich das Foto aufgenommen, es war ein wunderschöner Moment.
Nachhaltigkeit vs. schnelllebige Modewelt – wie meisterst du den Mix?
Es ist ein innerer Kampf, ruhig zu bleiben und nicht den Kopf zu verlieren. Ich habe die Entscheidung getroffen, nur zwei Kollektionen pro Jahr zu machen und gut laufende Stücke nicht einfach aus der Produktion zu nehmen. Ds erlaubt mir mehr Freiraum in der hektischen Routine als Selbständige.
Einige von Lees Designs – mehr findet ihr hier.
So, jetzt seid ihr ein bisschen verliebt, oder? Dagegen habe ich etwas: Lee und ich haben uns zusammengetan und verlosen eine Landscape Pouch – ihr habt freie Wahl! So nehmt ihr teil:
Verratet mir bis zum 20.01.2015, 23:59 Uhr in den Kommentaren, welche Clutch euer Liebling ist (verwendet zum Kommentieren eine gültige E-Mail-Adresse).
Der oder die Gewinner/in wird am 21.01.2016 bekannt gegeben und von mir per Mail benachrichtigt. Hier findet ihr die Teilnahmebedingungen. Viel Glück 😉 
Das Giveaway ist geschlossen, gewonnen hat Anna R. 🙂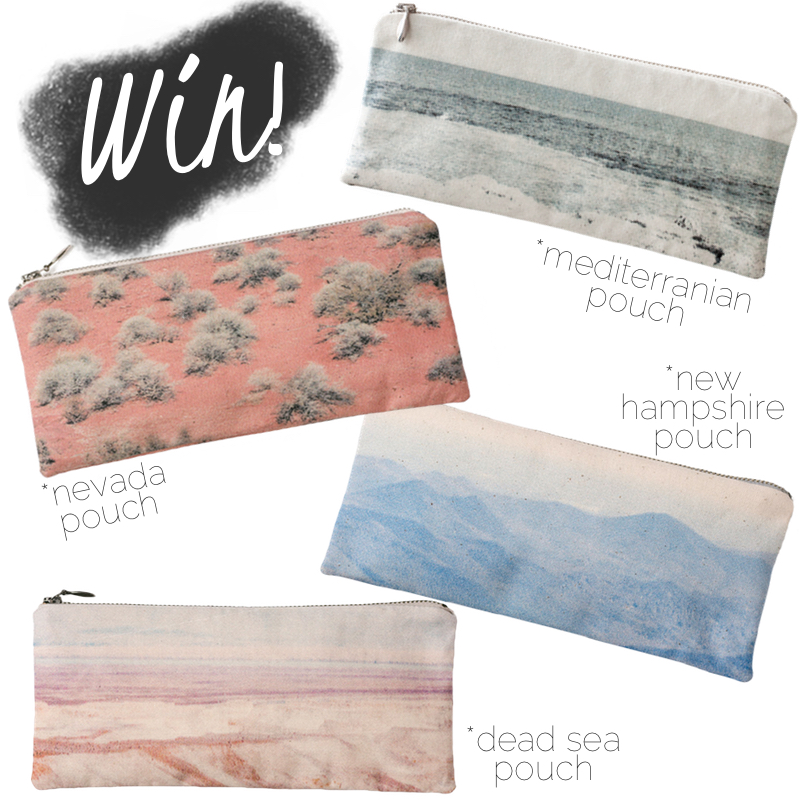 —ENGLISH TRANSLATION—
Today, I'm happy to introduce you to designer Lee Coren, who lives and works in Tel Aviv. I was glad enough to get the chance to interview her and to treat you to a little giveaway together with her 🙂
First things first: How did you start your own brand?
I graduated in Visual Communications from Shenkar College of Engineering and Design 4 years ago with a tingle in my fingers for textile design. Until then, it was a field I had very little experience in. After graduating, I started taking different courses to expand my knowledge and fell in love with traditional and modern printing techniques, and the combination of the two. It wasn't long after that I realized this is where my heart is. Today, my designs are the result of a process of graphic design – collecting visuals (photographs I take), deconstructing them (drawing out the elements I am fascinated with) and reassembling the parts into a new visual element and finally, transforming it into a pattern and a refined shape.
You make "urban textiles" – can you explain a little?
My designs are inspired by a mixture of two strong elements in my life, my urban surrounding and the need for escapism and a breath of fresh air. It's always about what surrounds me. This inspiration then translates back into my textiles designs, which in turn are worn within the city – and by thus completing the circle.
What features are most important for you in your products?
If it's something the world is missing (in my eyes, of course). 
One of your most popular series is composed of landscape prints. Which one is your favorite and why?
It's hard to choose when each and every item was inspired by an unforgettable journey! The Dead Sea print/photo for instance, was taken at the end of a long hiking day with family and friends. Our dog, Boni, was with us, and at one point in the trail we had to turn back because of a pegs pass in the heart of the wadi. My husband and I waved the rest goodbye and agreed to meet them back up. Once we got out of the wadi, the desert opened up to us – and we really weren't sure which way it was we came from! We started walking one direction, and noticed Boni wasn't following us. He was standing in place, not budging. We walked back to him, and he quickly jumped to the other direction – a belgian shepherd that was born and raised in the city, connected to his roots and showed us the right way out – we were so impressed and relieved. We let him lead us all the way. When we finally got back to the meet point our friends were waiting for us there, and we all went to eat snacks and watch the sunset cover the landscape. This is when I took this photograph. Such a beautiful moment in time.
Sustainability vs. fast paced fashion trends – how do you master this design challenge?
 It's an inner battle to keep my cool and head in the game. As a decision, I only make 2 collections a year and don't necessarily take out loved items from production, that allows me just a bit more breathing room in the hectic independent routine. 
You can win one of Lee's beautiful landscape pouches! Just like at/least and Lee Coren on Facebook and let me know which one is your favorite pouch and why in the comments below this post (don't forget to use a valid mail address to comment 😉 ) Competition runs until 20.01.2015, 23:59 CET.  This giveaway is closed – Anna R. is the lucky winner 🙂