[This post contains sponsored items, you can find more info below]
Sundays are for relaxing – so why not have breakfast in bed for a change? Today I'm introducing Yumeko to you, a fair interior brand that offers the perfect bedding goods for that easy weekend vibe…
Crêpes (I've got the recipe for this delicious vegan treat ready for you below ;)) and flowers on a tray, me with curls and make-up: I can't deny that my boyfriend and me had quite some fun shooting these pictures. Our usual Sunday morning is not as instagramable – nevertheless I love to furnish our apartment and to have fun with our interior decoration. Our newest addition is Yumeko's organic cotton bed linen.
The Yumeko Story
Since I've been buying fair fashion exclusively, I also look for furniture and home textiles that are produced the ethical way. It can be quite hard though to find the right brands that cater these needs. That's why I've been happy to learn about Yumeko, a Dutch brand that has been producing fair home textiles such as bedding, duvets and pillows and even mattresses since 2010. Yumeko founders Stephan Zeijlemaker and Rob van den Pool had been leading projects in the social sector before they got their own company up and running.
Starting Yumeko, they had a vision of hometextiles without harming chemicals that would be good for humans and environment alike. And that's what they did: Their timeless bedclothes are all made from organic cotton, are GOTS or Fairtrade certified and produced under fair conditions in India.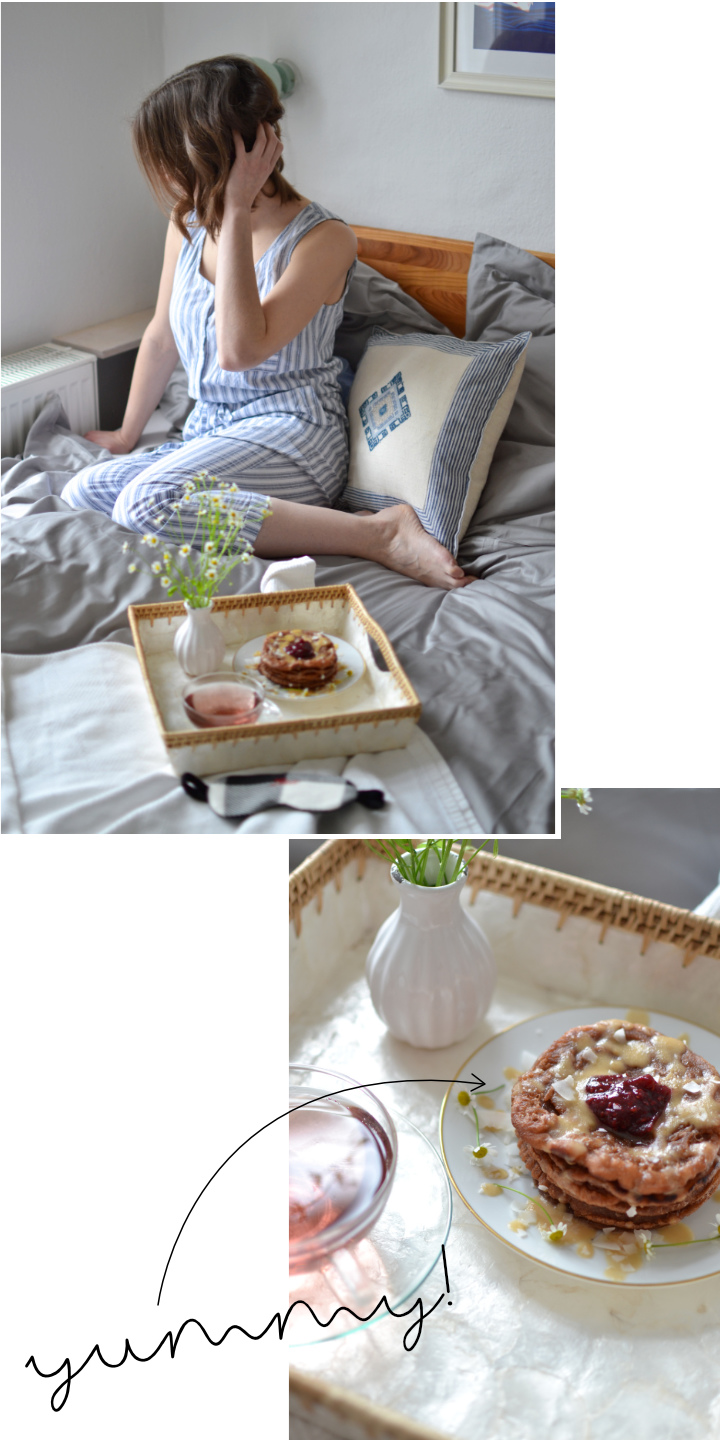 Vegan Breakfast Crêpes
I've been using the basic recipe for these vegan crêpes for quite some time now – it's from blogger Vegan Guerilla blogger Sarah. As they consist of only two ingredients they're super easy to make – I've added cocoa for a real Sunday feeling 😉
Ingredients (for two):
150 g flour (I use spelt flour)
200 ml rice milk
2 tsp. cocoa powder
a dash of maple sirup
plant oil
2 tsp. peanut butter
some water
salt
marmelade, coconut flakes or fruit as a topping
How to make vegan breakfast crêpes:
Mix flour, rice milk, cocoa powder, maple sirup and a dash of salt to a rather liquid dough. Heat plant oil (I've used coconut oil)  in a pan and bake the dough in small portions. Mix the peanut butter and a small amount of water with a whisk, until you get a thick sauce. Serve the crêpes with marmelade, coconut flakes, maple sirup and peanut sauce as a topping – you can also use fruit of your choice 😉
The beautiful sleeping mask was made by Jovan Vialva, who is the creative behind fair fashion Label j.jackman, by the way. When leftover fabric pieces (these are from their top Sara) get a new purpose this beautifully you have to love it, right?
* The bed linen for this post has been gifted to me by Yumeko. The opinion is my own – as usual 😉