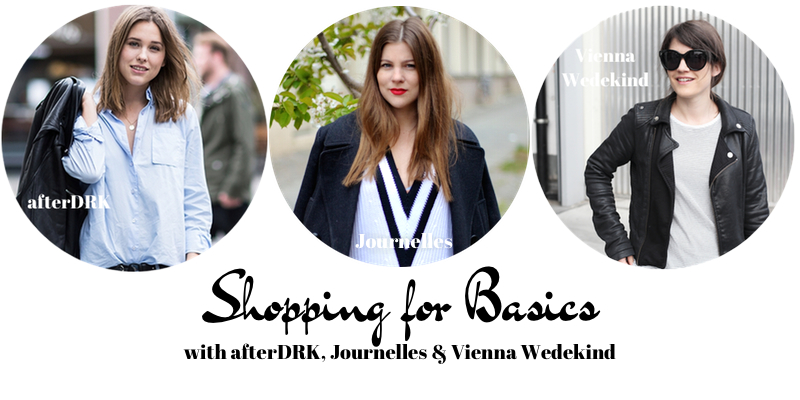 INSPIRATION. If you have read my article on sustainability, you might know that I'm currently looking for some ways to make my wardrobe more enduring. This basically means that I plan to invest more into high-quality basics. What's the use of buying a black t-shirt twice a year if you could buy one of a better quality that will last two to three years?
During my little "research", I found myself confused by all the options. If you invest, it should better be a good investment, right? With some inconclusive forays through online shops and high end stores (It's just too awkward for me to walk into a shop where they sell sweaters for a 1000 bugs.) behind me, I decided to get help. I asked afterDRK's Sabrina, Carola from Vienna Wedekind and Jessie from Journelles to share some tips with me (and you of course!) on where to get your wardrobe classics.
Luckily, these three were kind enough to share their wisdom and I'm pretty grateful for the lesson they gave me on buying basics (You will be too over a minute ;))
Carola said: "Most of my basics are from ACNE or COS, some of them are from Zara. I think ACNE has the best basic shirts but I also own ones from T by Alexander Wang. When it comes to jeans, I still haven't found the perfect one, although I'm a fan of the ASOS Ridley Skinny Jeans these days. I own these in black and indigo"
Sabrina said: "If you are willing to spend some money, you should go for the Mini Boy Tee by 6397, otherwise you can find good ones at the COS men's department. I love ACNE jeans, as they are simple and perfectly keep their shape. But if you've got less money to spend, I'd recommend Snap by Dr. Denim and Topshop's Baxter.
Jessie said: "Paige jeans are my favourite! And I think Isabel Marant makes the best basic shirts."
Now that's something! Deciding for good quality has just become a lot easier. Thanks, Carola, Jessie und Sabrina <3