Okay, I'm done. The blogging break lasted a little longer than expected and I think it's been the longest time without blogging for me since I started at least almost five years ago. I don't have an excuse and I also don't feel like making one up because I've always been blogging because I wanted to not because I had to. As a grown up you can't often afford to do nothing when you feel like it, so I took the chance 😉
Call me a bad blogger but I haven't prepared any big projects for you. Actually I haven't done anything in the meantime (okay, there's been a couple of things, see below) except what I wanted to. Like following my inner wish to start watercolor painting one afternoon which resulted in a three-hour-session of paining skies on my balcony. The result hangs above my desk now – even if this little practice hasn't turned me into an artist.
What I'm trying to say – in a little confusing way – is that I've taken some time off for me. And it felt pretty good. My everyday life is, I guess just like yours, packed with to-do-lists and "You have as many hours in a day as Beyoncé!"-memes that end with me staring at a blank screen with the feeling that everybody else managed to do more in the same time. It happens pretty quickly that I get stuck in the perfection trap and forget to draw a line between what I feel is right and what everybody else wants.
During my vacation I found the carelessness to recognize that nobody else but me can decide how much sleep I need, how many hours in a day I can work concentrated or how many blog posts I should publish in a week. Not even Beyoncé. So why should I compare myself to others?
That's all about my personal vacation epiphany. To get you up-to-date, you can find some highlights of my last five weeks below:
New Flat
We moved! The chaos is slightly going away and everything is finding its place in the new apartment. We've decided to not move into a bigger but a smaller apartment and have sized down from 54m² to 45m². I'm pretty happy with this decision because the smaller apartment includes a balcony (finally!!!). We've turned it into our dining room because we still don't have a proper kitchen table – I don't mind as I'm eager to take in every ray of sun I can get in this not so nice German summer.
Mini vacation on the camping site
"Me camping? Never ever!" – Me a few months ago. Now I can't wait to go back to the little camping site we spent our vacation at. Thanks to the lack of sight seeing opportunities (if you don't count a paddle tour and a walk to the village) we just read and hung out all day. On top of that I also recognized that you don't need a five star hotel to relax, real luxury is to have nothing on your agenda. I resolved to go more on vacation nearby – it isn't only less expensive (the train ride cost only 10 €) but also lowers one's personal carbon footprint. This might not be a revolutionary insight but sustainable traveling is one of the areas where I could do better.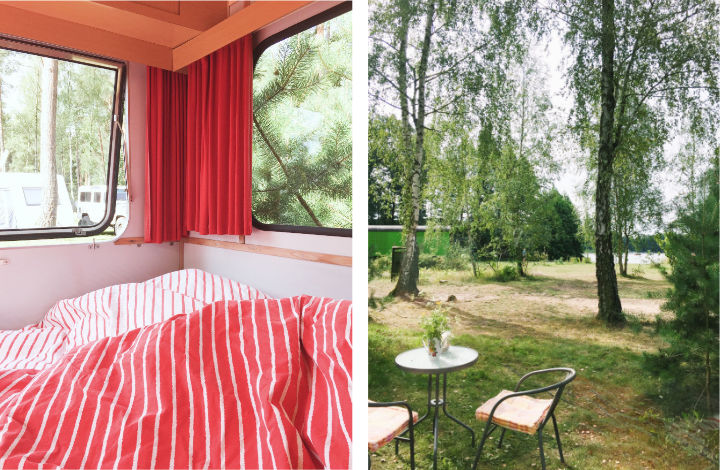 Channelling my inner craftswoman
Maybe you've seen in my Instastory that I've been thinking about one topic a lot because of our move: Men build, women cook – to say it the flat way. It's the same for my boyfriend and me: While I'm responsible for all the female responsibilities, he's doing the hammering and building. Luckily I didn't want to wait with our new balcony bench when he was away for a couple of days and so I planned everything on my own, went to the supply store and build the whole thing from scratch. And it worked! (The next project will be to make something to put the bench on ;))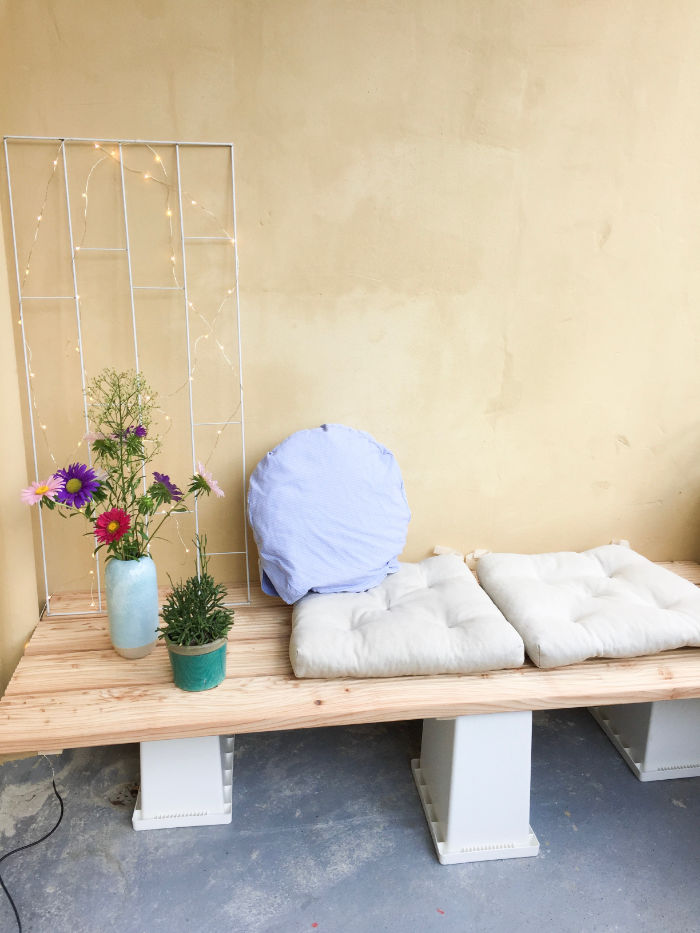 My coding journey
Talking of male and female stereotypes: I've started coding some months ago and think it's a super interesting area. I started a ten week coding course in frontend development in May and finished it during my vacation. I'm pretty proud of myself I can tell you!
I'll start posting again within the next few days. Until that: Enjoy the late summer days 🙂