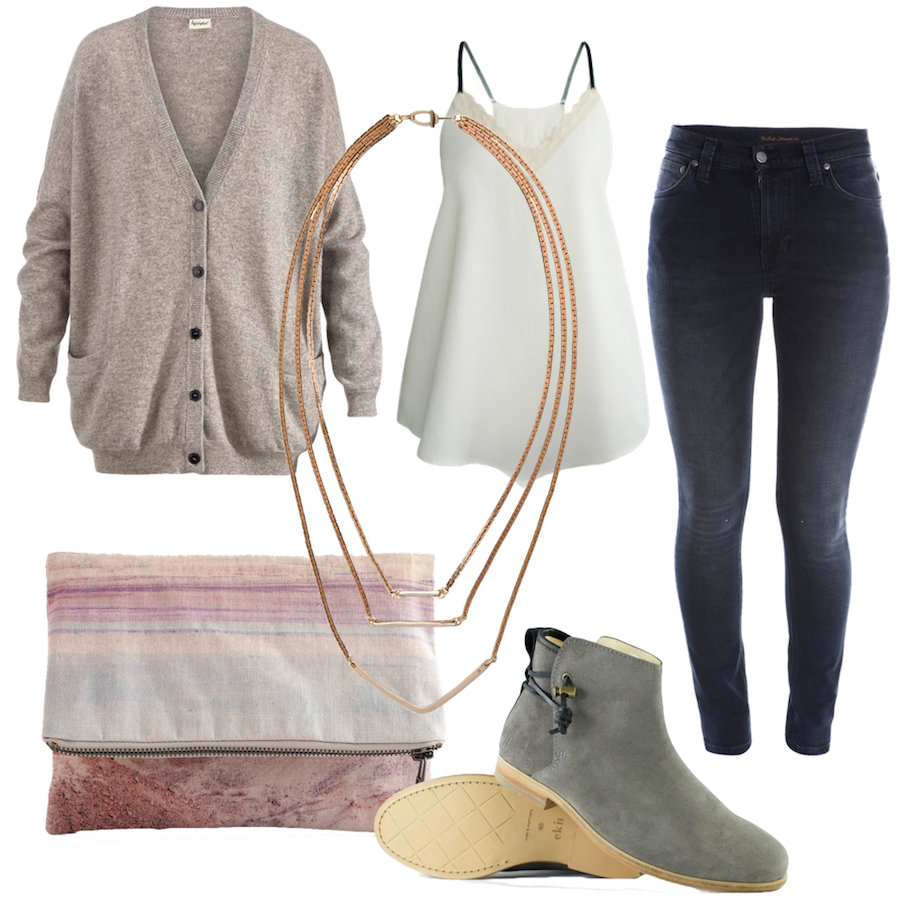 SHOPPING. Faire Mode hat ja immer noch einen etwas angestaubten Ruf. Beim Gedanken daran machten Birkenstock-Sandalen (obwohl die ja mittlerweile nicht mehr so angestaubt sind) und komische Pluderhosen direkt einen kleinen Umzug durch meinen Kopf. Bis jetzt zumindest. Denn wenn man sich mal aktiv mit dem Thema auseinander setzt, wird klar, dass die nachhaltige Modeindustrie ordentlich aufgestockt hat. Die Auswahl ist viel größer geworden und es ist längst nicht so teuer wie ich gedacht hätte, sich fair anzuziehen.
Und wo kommt das alles her?
Was ich bei meiner kleinen Recherche gefunden habe, macht auf jeden Fall Lust auf mehr. Besonders an den weiten Cardigan aus Yakwolle von Hessnatur habe ich ein bisschen mein Herz verloren. Im Sale kostet er gerade 119 Euro und wenn ich momentan nicht am Umzugs-Hungertuch nagen würde, hätte ich vielleicht auch schon zugeschlagen.
Dass ich das Top von woodlike vorstelle, ist ein bisschen Ehrensache. Immerhin werden die hübschen Teile von Sonja und Mauricio in Hamburg angefertigt.
Nudie Jeans dürfte den meisten von uns ja bekannt sein, dass sich das schwedische Label aber auch für eine faire Produktion stark macht und ausschließlich Bio-Baumwolle verwendet, wusste ich nicht. Nachdem ich einige ziemlich enttäuschende Tests mit Jeans von Weekday und Cheap Monday hinter mir habe, wird mein nächstes Beinkleid wohl von hier kommen – vielleicht hält es dann ja mal etwas länger…
Minimalistische Accessoires sind, wie ihr vielleicht durch meine anderen Posts zum Thema mitbekommen habt, mein neues Lieblingsding. Die Kette von Tiffany Kunz ist also nicht zufällig mit in diesem Alltagslook gelandet; das hübsche Teil aus recyceltem Metall wird in Los Angeles von Hand gefertigt.
Ähnliches Prinzip nur ein paar tausend Kilometer weiter: Die Landscape-Clutch wird in Lee Corens Atelier in Tel Aviv hergestellt. Die Motive für die eindrucksvollen Drucke (ha ha) findet die Designerin auf ihren Reisen – auf der Baumwolle-Clutch gibt's ein Stück Totes Meer zu sehen. (Den tollen Tipp habe ich übrigens bei Puderfarben gefunden.)
Last but not least: Die Stiefeletten von ekn werden pflanzlich gegerbt und in Portugal hergestellt. Wer mal die 37Grad-Reportage "Gift auf unserer Haut" gesehen hat, weiß, dass das meiste Leder, das wir kaufen mit Chrom gegerbt wird. Das kann bei falscher Anwendung nicht nur für die Arbeiter, sondern auch für Konsumenten schädlich sein. Eine gute Alternative also!
Cardigan von Hessnatur / Top von woodlike / Jeans von Nudie Jeans / Kette von Master&Muse x Tiffany Kunz / Clutch von Lee Coren / Stiefeletten von ekn 
///IN ENGLISH, PLEASE!///
Soo, this is the first ever fair fashion window shopping on my blog. This casual look contains a cardigan by Hessnatur (made in Mongolia), a top by woodlike (made in beautiful Hamburg), organic cotton Jeans by Nudie Jeans (made in Tunisia), necklace by Tiffany Kunz (handmade in the U.S.), clutch by Lee Coren (made in Israel) and boots by ekn (made in Portugal).