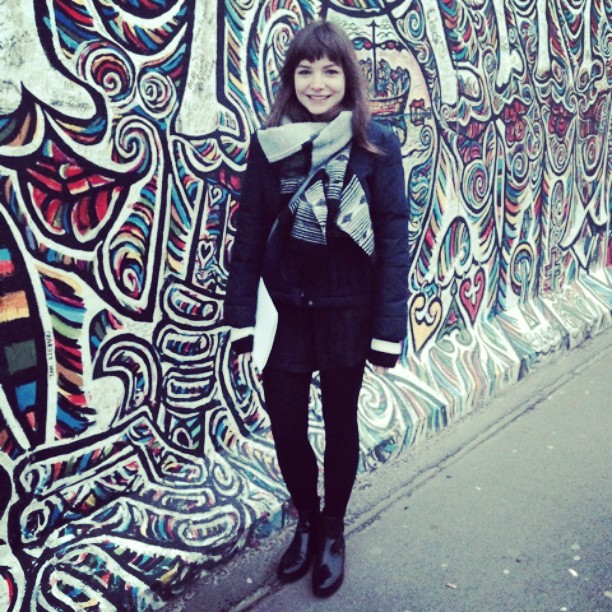 COLUMN. So lange, wie ich mich für Mode begeistere, war die Fashion Week immer eine Sache, die auf meiner mentalen To-Do-Liste stand. Glitzer, Glamour, der ganz große Mode-Zirkus eben. Klar, dass ich da auch mal dabei sein wollte, ist schließlich eine Art Fashion-Blogger-Ehrensache.
Bis dato dachte ich aber, dass man ohne persönliche Aufforderung an keinen der begehrten Plätze käme, jetzt weiß ich, dass es hier und da auch eine charmante Selbsteinladung tut. Einen Tag nach meinem Umzug nach Berlin stand ich also vor meinem frisch eingeräumten Kleiderschrank, der nix tolles hergeben wollte. Irgendwie logisch, immerhin hatte ich zu diesem Zeitpunkt zwei Wochen keine Wäsche gewaschen und meine Klamotten rigoros aussortiert.
Ein Blick auf Instagram verriet mir, dass ich damit allein war: Jeder andere Mensch hatte offensichtlich schon Monate vorher einen persönlichen Mode-Schlachtplan ausgearbeitet. #ganzprima seufzte ich und griff schließlich zum Ringelpulli, der derzeit sowieso mit meinem Körper verwachsen ist.
Nachmittags traf ich Bina auf der Modemesse Seek, die glücklicherweise ihr Fashion-Week-Knowhow mit mir teilte. Hier Schuhe, dort Hemden und schon waren wir auch am Ostbahnhof zugange, wo das Doppel aus Green Showroom und Ethical Fashion Show auf zwei Etagen mit fairer Mode brillierte. Im Nachhinein würde ich mir wünschen, da etwas mehr bei der Sache gewesen zu sein, aber laufen und gleichzeitig eine Unterhaltung führen, schließen meine Multi-Tasking-Skills grundsätzlich aus.
Am Dienstag war ich auf der Premium dann doch wieder etwas aufmerksamer und konnte ein paar Labels ausmachen, die ich mir in den nächsten Tagen mal etwas genauer anschauen werde und dann natürlich gern hier vorstelle. Nachmittags wartete meine erste Modenschau im Zelt am Brandenburger Tor auf mich: Anne Gorkes Herbst/Winter Kollektion. Die Mode des jungen Labels wird übrigens ausschließlich in Deutschland hergestellt, bei den Materialien wird Wert auf Nachhaltigkeit gelegt.
Nachhaltig war auch mein Eindruck von der Modemeute im Zelt: So richtig konnte man sich auf der Fashion Week in Berlin auf keinen Dresscode einigen. Während die Partyfummel einiger Besucherinnen gerade so die (sicher frierenden) Pobacken bedeckten, hatte man anderswo die Friedrichshainer Kampfuniform aus Plateaustiefeln, crazy Make-up und schwarzem Lagenlook ausgepackt. Nachdem ich mich innerlich über meine eigene modische Intoleranz aufgeregt hatte, ging ich im strömenden Regen nach Hause.
Die zwei Shows am Mittwoch, zu denen ich eingeladen war, ließ ich ausfallen. Es ging mir einfach zu gut im Schlabber-Look in der Mitte meines neuen Wohnzimmers mit meinem Tee und den Wohnzeitschriften eingedeckt. Daran konnte auch keine Modewoche was ändern…
///IN ENGLISH, PLEASE!///
Ever since I started to get involved in fashion, it was one of my biggest goals to attend fashion week one day. I always figured that you needed to get an invitation until I found out that you could ask for one yourself as well. After my first night in Berlin, my fashion week adventure started. Unfortunately, putting together a decent outfit became somewhat challenging, as I didn't do the laundry in weeks and I had sorted out lots of clothing before I came here. A striped sweater had to be enough.
After visiting the fashion fairs Seek, Premium and the Green Showroom, I went to my first fashion show ever: Anne Gorke. The label's clothing is produced sustainably what made it especially interesting to me. But that wasn't the only thing that caught my attention: The visitor's outfits were pretty absorbing as well. The fash-pack sported everything from short party dresses to all-black Friedrichshain-survival-looks. Under this impression, I decided to stay home the next day in my pajamas – and I was completely fine with that…